| | |
| --- | --- |
| Is your organization getting any smarter? | Friday, June 16, 2017 |
We are all busy and 'working hard'. Work is more demanding and there just does not seem to be enough time to get everything done.
Organizations love to create work. We push our people and resources to create short term capacity, but at what cost? If we continue to create work and push our resources to 'work harder' our organizations actually get less smart. We tend to do the same things over and over and spend all of our time working on 'stuff'. We spend a limited amount of time focusing on why we have problems and implementing solutions to improve capacity. We stop learning and our capabilities decrease. We get tired and frustrated and our long term capacity decreases.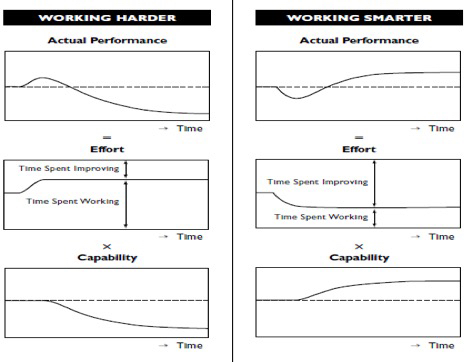 So what do we do?
Create some 'productive slack'. Current data tells us that most people spend at least one day a week in meetings and another day answering the emails they get when they were in the meetings. This accounts for 40% of the work week. While we need to meet as teams need to have effective communication but real work does not get done in meetings (and most meetings create more work that we do not have time do).
A number of our consortium members have utilized their management system to reduce the time spent in meetings and are getting smarter by engaging their teams in problem solving. As a next step, try the following experiment. Before your team starts their day and their work, meet for 10 minutes to discuss what they are going to do today, what is important and what help is needed. At the end of the day, meet again for 10 minutes and discuss if they had a good day and accomplished what they set out to do. If they did not, ask why, what can we do to make tomorrow a better day and implement the changes. This is extremely effective if you utilize your visual production / project / patient flow boards to conduct your morning meeting and your performance control boards to conduct your afternoon meeting.
And the result ..... at lot less time spent in unnecessary meetings, 30% reduction in emails (we actually talk instead), 50% improvement in execution of our work (we focus on working on the right things) and we get smarter as we are learning and solving problems.
| | |
| --- | --- |
| Your current Management System may be limiting your success | Friday, April 7, 2017 |
We all know that Lean and Continuous Improvement implementations have a very low chance of being successful over a long period of time. What many organizations don't know is why.
Working with our Continuous Improvement Consortium members we have found that those Organizations that have the right Management System are the ones that have success. In short, your Management System may be your limiting factor.
So what is the right Management System?
First of all, your management system is in place to make sure we are dong the right things for our customers (or clients or patients). It does this by providing alignment to our Vision, Strategy and Outcome Measures. It connects everyone in the organization right down to the daily work to allow them to understand how they can impact our vision. It helps our people to make really good decisions. It also provides alignment to our other two systems - the Production System (how we delivery value) and the Human System (the Right People, in the Right Place with the Right Skills and the Right Effort and Attitude).
The right Management System products the integrity of our Production System through providing stability and consistency of purpose.
Finally, it is very good at identifying and solving problems at all levels of our organizations.
The concept of how to develop the right management system is elegantly simple and is driven by the daily connections we make with our people.
What to learn more or understand how good your current Management System is? Let me know and I would be happy to come in for a Management System walk.
| | |
| --- | --- |
| Best Practice Roundtable - Effective Use of Data to Make Good Decisions - April 18 - L3 Wescam | Friday, April 7, 2017 |
World Class Organizations depend on their people to make really good decisions. To make good decisions, we must provide all our people with the ability to understand and use data to solve problems.
This Best Practice Roundtable will focus on the development of the Human System Element – Problem Solving.  It will help us understand the following questions   
Why we need data
When should data be used for decision making
What is good data
What is the best way to collect data
How to use data to make good decisions
Objective
Improve our organizations ability to become better problem solvers through the Effective Use of Data to Make Good Decisions
Agenda
1.       Introduction and Objectives
2.       Learning – Critical Thinking and Data
3.       Best Practice Presentations – How we use data (please come prepared to make an informal presentation on your best practice)
4.       Apply – Development of Organization specific improvement plans for data use to make decisions
5.       Wrap up and Next Steps
When
April 18, 2017, 8am to 12:30pm
Where 
L3 Wescam - Burlington.
Action Required 
Space is limited for this Roundtable so please let me know if you would like to send some one from your team - ssmith@hpsinc.ca 
| | |
| --- | --- |
| Providing Effective Feedback - Eliminate the 'but' by using I Like, I Wish, How Could | Monday, January 30, 2017 |
Providing feedback is a critical component of positive development of our employees and team members.    

To give effective feedback, we need to get rid of the 'but'.  For example, if you approach an employee and say "You did a good job gathering data from your team for this problem, but I think you need to focus more on getting data from other teams", the only thing your employees hears is what is said after the but and the positive is negated.   Instead of 'but' we need to focus on the 'and'

A technique that I have tried that works great is using I Like, I Wish, How Could / What If.
I like that you got your team together for a discussion on your problems.
I like that you gathered data from your team to better understand the problem.
I wish we could have more data from other teams to make sure we understand the full impact of the problem.
How could we do that?
By doing this, you have acknowledged the good work and used the 'and' to build upon that work and suggest a refinement to their approach in a positive way.  The How Could engages everyone to work together on a possible solution.  
If you feel it would be better to provide a bit of coaching to the employee, you can use 'What if" instead of How Could.  For example, you could finish with "What if you got the other teams together for a similar discussion"
Next time you give feedback, try it out and let me know the results – two I likes, a brief pause, an I wish and a How Could or What If. 
| | |
| --- | --- |
| Congratulations 2016 Share Showcase Winner - Brant Community Healthcare | Friday, November 18, 2016 |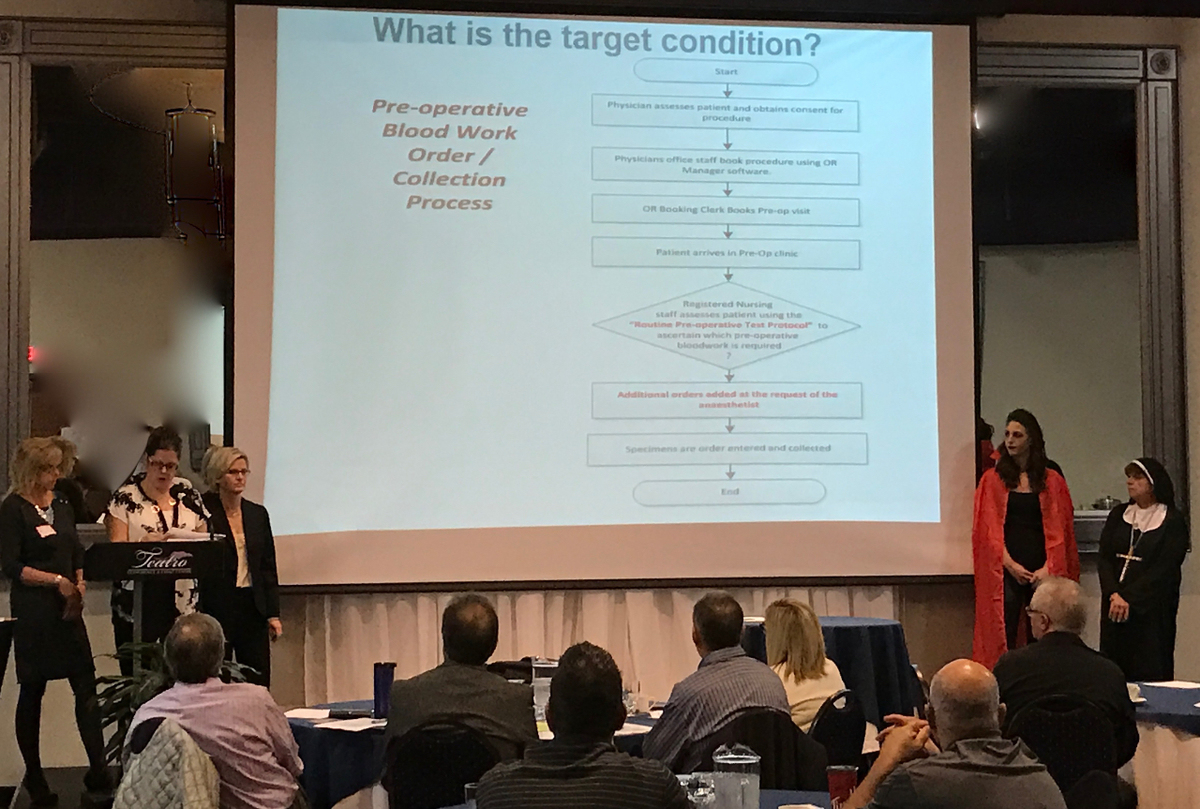 Congratulations to CIA Consortium Member  Brant Community Healthcare on winning Share Showcase 2016.
Your presentation on Choosing Wisely highlights the excellent work you are doing to improve the patient experience and to effectively apply Lean Thinking.   
| | |
| --- | --- |
| Thank you Consortium Members for Share Showcase 2016 | Friday, November 18, 2016 |

Thank you Consortium Members for another successful Share Showcase event!  
21 best practice presentations and 150 people helped make this an exceptional day.
| | |
| --- | --- |
| Helping your Team ( and yourself) Prevent burnout | Wednesday, October 19, 2016 |
The latest Harvard Business Review has a great article on managing 'burnout'.  One of the key points the article makes is that burnout in an organization is typically not isolated to one individual but is experienced by the entire team.  I have taken the liberty of injecting some of my thoughts in the thinking.  

The key signs of burnout are as follows:

Exhaustion -  I am physically and mentally tired.  Physical, cognitive, and emotional fatigue impacts people's ability to work effectively and feel positive about what they're doing.

Alienation -  I don't feel part of the organization.  Feeling detached from the workplace and the work we do. Alienation happens when we don't feel connect to the organization and have a sense of purpose that what we do makes a difference.

Ineffective - I don't feel like I am accomplishing anything and can't do anything right. Feeling ours skills are slipping and worrying that they we won't be able to succeed in certain situations or accomplish certain tasks ... and I can't get anything done.  

What can we do as leaders what can we do about the burnout problem?

Put your own oxygen mask on first - Follow the advice that they give if your airplane looses air pressure - put your own oxygen mask on first - and take care of yourself. If a leader is feeling burnout they will have trouble helping their team.   

Watch for Warning Signs 
The signs of burnout are obvious in some people but subtle in others. Keep an eye out for tiredness, lack of focus, depressed mood, hostility, and expressions of hopelessness.
Regularly check in with team members to gauge their physical, cognitive, and emotional energy levels.
Improve the Team's Capacity
Help your team them help themselves - Understand what your team's capacity is and manage what work is in process.   Work with your team to create additional capacity and limit the number of projects and tasks we have.  It is better to work on fewer things and get them done than taking on a lot and getting nothing done.  
Protect the core and make sure your team is focused on the primary work. Where possible shield your team from external pressures, including unreasonable or unclear customer and management demands.
Try to limit and manage drop in or 'squirrel' tasks.  
Insist on Renewal
Communicate that optimal performance depends on rest and renewal. Encourage people to set sensible limits on work hours. We are only effective for around 8 hours of work a day.  
Set an example by keeping reasonable hours yourself.
Make sure your team members take their full vacation time.
Boost Control
While you can't control everything - emphasis that fact that you can always control the impact that non-controllable situations has on your team.  
Advocate for the resources your team needs to perform.
Build in focused slack - Create uninterrupted time for people to make progress on important tasks.
Make Team Recognition Meaningful
Regularly highlight wins and successes, even small ones.
Recognize and reward people for helping others.
Note the positive impact of your team's work on others.
Emphasize Learning and Continuous Improvement
Focus on our organizations vision, strategy and goals and what resources and development activities are required to achieve them.
Share what you're learning and how you're doing it.
Get out and benchmark with other organization's to get a better perspective on what we need to do to improve. 
Facilitate Mutual Support
Talk regularly about progress toward team goals.
At team meetings, ask what assistance people need and can offer one another.
Be open about asking for and giving support.
Build Community
Don't tolerate incivility on your team. Set an example for respectful, compassionate behavior toward others.
Encourage people to share what's happening in their lives outside of work.
| | |
| --- | --- |
| Celebrate your Team's Success at Share Showcase 2016 | Wednesday, October 12, 2016 |
Share Showcase – 2016
​Celebrate your Team's Achievements

Our 10th annual Share Showcase celebrates the best achievements by our consortium members in 2016. It is the largest best practice sharing event of the year for the HPSC consortiums. 
Share Showcase Format
Each member company team has 10 minutes to make their best practice presentation and to engage the audience for their questions and feedback.
Best Practice Awards
Our panel of judges will present the awards at the end of the event based on effectiveness of the presentation as well as learning and application to the audience.
Event Details
When – Thursday November 17th, 2016
Time – 8:00am to 4:00pm
Cost – No charge to consortium members (a cash donation to the United Way would be appreciated) 
Where – Teatro Conference and Event Centre - 121 Chisholm Dr. #2, Milton, L9T 4A6
Registration Deadlines  
Best Practice Presentations – Team members - Oct 24th.
Final presentations - November 11th 
Registration of Share Showcase Supporters / Attendees – October 28th  
How to register - E-mail  ssmith@hpsinc.ca  for full event details.
| | |
| --- | --- |
| St. Mary's General Hospital - Chairman's Award | Thursday, October 6, 2016 |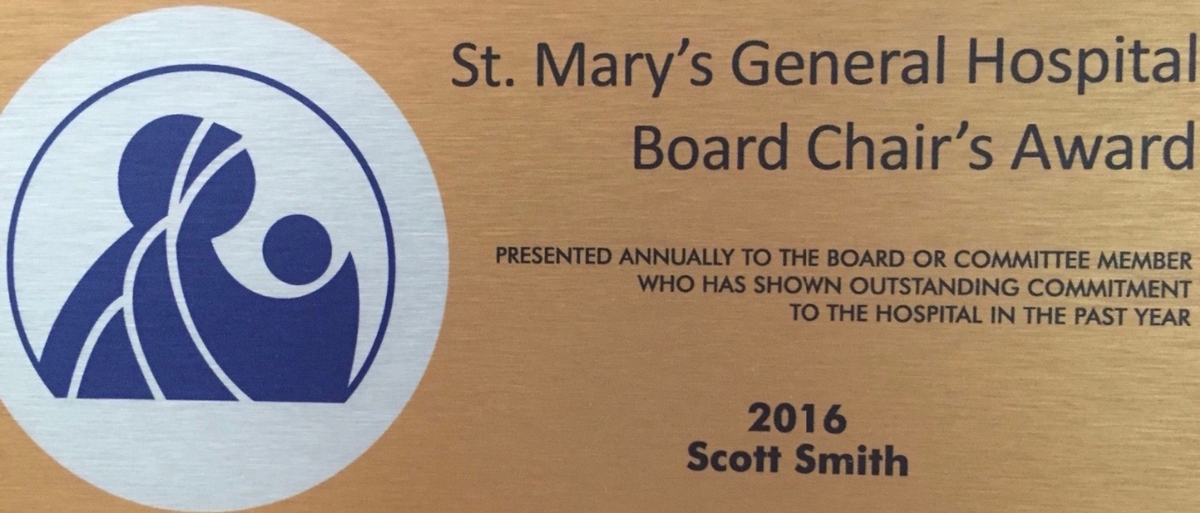 As we launch into our 2016 / 2017 Quality Committee year, I would like to thank St. Mary's for this honour. I will do my best to provide a high level of support for St. Mary's,  its patients and the community it supports.  
| | |
| --- | --- |
| Nudging Safe Behaviour | Wednesday, October 5, 2016 |
A 'nudge' alters peoples behaviours in a predictable way without mandating action or introducing significant economic consequences.  

For safety, most organizations tend to focus on creating good workplace conditions for safety, but forget about the behaviors that are needed for our team members to make good decisions.                                                                                  
Our HPSC Visual Management Safety SIG has a strong focus on developing safe behaviours in their organizations.   As an experiment, we have benchmarked against the concepts of behaviour economics to develop a process to encourage safe behaviours and decisions.   
Following PDCA thinking, we have designed a process to develop nudges.  The following is a part of the framework for design.  If you would like the full process, please connect with me at ssmith@hpsinc.ca .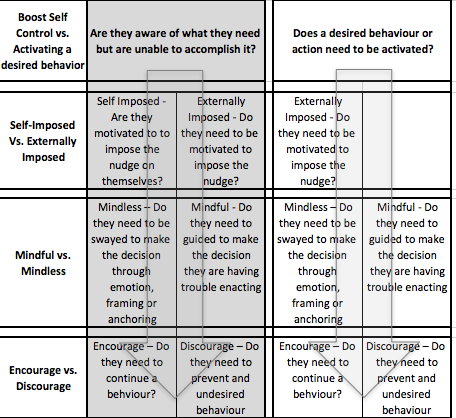 Thank you to the book 'Nudge' as well as the Rotman School of Behavioural Economics for inspiration.
Contributors
Latest Posts
Archive
Tags
Everything
Learning
Discussions
Leadership
Lean Thinking
Problem Solving
Continuous Improvement