A 'nudge' alters peoples behaviours in a predictable way without mandating action or introducing significant economic consequences.  

For safety, most organizations tend to focus on creating good workplace conditions for safety, but forget about the behaviors that are needed for our team members to make good decisions.                                                                                  
Our HPSC Visual Management Safety SIG has a strong focus on developing safe behaviours in their organizations.   As an experiment, we have benchmarked against the concepts of behaviour economics to develop a process to encourage safe behaviours and decisions.   
Following PDCA thinking, we have designed a process to develop nudges.  The following is a part of the framework for design.  If you would like the full process, please connect with me at ssmith@hpsinc.ca .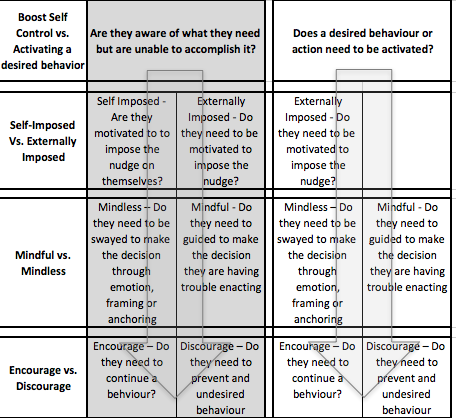 Thank you to the book 'Nudge' as well as the Rotman School of Behavioural Economics for inspiration.